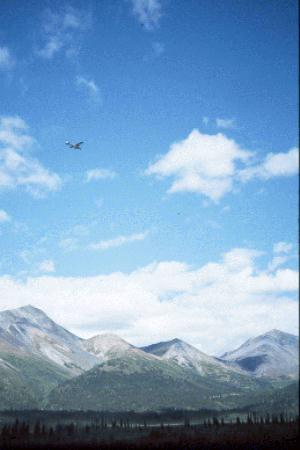 Day 1, August 9
Macmillan Pass Airstrip, Yukon (MP 238) to Tsichu River (MP 222)
16 Miles, 2:35p to 9:30p
The fires in northern Canada turned the air in Norman Wells to an acrid haze. We could barely make out the shore on the far side of the Mackenzie River and our flight to Macmillan Pass was delayed until after noon. Finally, however, we were in the air. Blair and Warren of Ursus Aviation flew the six-seater along the general course of the Canol showing us the major highlights of our next two weeks. The hour and a half trip fascinated Dave and Roberta, but it just made me sick. At one point Blair offered to visit a fire burning in the Keele River valley, but we opted against it for my stomach's sake.
We bid Blair and Warren goodbye from the Macmillan Pass airstrip and began our trip on the Canol Trail at 2:35 p.m. The road, immediately obvious, is maintained for vehicle traffic. The Selwyn mountains accompanied us up the South Macmillan River valley over the Continental Divide and spread out to make room for the broad Tsichu River valley.
Rain began to fall around 6:00 and we began walking that heavy tired-people-being-rained-on walk. We came to Camp 222 in the late evening, but since we didn't know what to expect, we assumed we had come to a hunter's camp that was locked and offered no amenities beyond the overhang that barely fit the three of us. I explored a bit and found not only dry digs in the nearby funhouse (the floor was tilted with cracked linoleum), but also the Natural Resources' game warden, Jamie Chambers and his father-in-law, Johnny. Jamie invited me (us) in for coffee. We had been torturing each other with visions of just this sort of thing for the last two hours!
I was able to get a good reaction when I came back. After donning a solemn face (indicating that I'd found nothing) I broke out in mild hysterics blabbering about dry housing and coffee (indicating that I'd gone mad on the first day of the trip). We thoroughly enjoyed chatting with Jamie (Johnny was rather quiet) and we learned that we were the first northeast-bound hikers of the season and there were two bicyclists two days ahead of us.
After eating dinner, we talked around a fire until midnight. This was my first visit north of Banff, so the long daylight was special to experience.
And the tent stays dry…