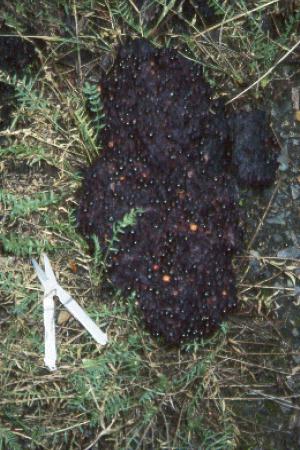 Day 5, August 13
Godlin River (MP 162) to Godlin River (MP 143)
19 Miles, 8:15a to 8:30p
I crossed on the remains of the bridge where we hung our food last night and Roberta and Dave crossed in sandals. The valley opened up as we continued the descent from Caribou Pass. Even though we were going downhill, we were tired and our breaks were getting longer. I guess the past two days' miles (24 and 22) were catching up to us. The six miles we did yesterday after Godlin Lakes took some of the pressure off, but it was still tiring.
Dave spied a grizzly bear on the opposite side of the valley and we watched it make its way upstream. It was big. We watched it until we were worried that it might spot us. After that, the whoops and hollers that we'd been issuing ever since Godlin Lakes got a little louder, a little more frequent, and a whole lot more reliable.
We were warned that the road was going to deteriorate significantly after Godlin Lakes, but it didn't seem that bad. In fact, the tread often turned from a road into a trail which was all for the better as far as we were concerned. We found a bobsled named Twitya on the side of the trail and posed for some mock pictures. Sometimes we found ourselves wading along the trail in ankle-deep water. We also encountered numerous huge, barely digested bear scat, keeping the bear threat at the forefront of our minds.
The clouds that threatened and sprinkled most of the day began to dissipate toward the end of the day, and it was downright nice out when we ate dinner at a rushing creek. We spent quite a bit of time looking for a camp and got one that was almost as good as the one last night. We hung our food from the utility lines marking the first, and last time we were able to hang our food higher than eye level.
The tent stays dry…