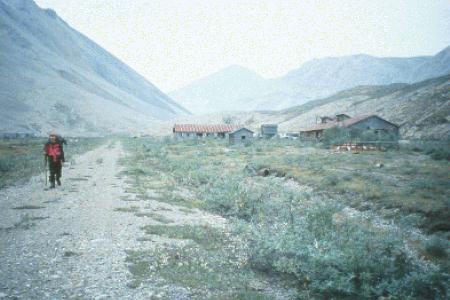 Day 8, August 16
Pump Station #4 (MP 108) to Andy Creek (MP 90)
18 Miles, 9:30a to 7:25p
Seven days of food sure is heavier than three or four. We happily descended through the open terrain accompanied by a couple herds of Caribou. The smoke was still with us and soon a light rain began to fall, which lasted only an hour or so. We cut away from Bolstead Creek to grizzly-ravaged Camp 100 and down to the Carcajou River. We would cross the Carcajou River twice during the trip and this was the easy crossing. It was highly braided and the water never got over my knees. Our boots were dry enough and the crossings infrequent enough now that we crossed in our sandals. Our route paralleled the river and gave us vistas of its meandering, unstructured course. I made up a song for the occasion. Sing this to the tune of Spiderman:
Carcajou, Carcajou
Flows where ever, it wants to
The hike out of the Carcajou River valley and into the valley of Andy Creek offered fantastic views. At its highest point, we took a break to inhale the beauty and marvel at what looked like a long uninterrupted ridge, but was in fact the edge of the Plains of Abraham which we would be crossing tomorrow. From the air, this was one of the more awe-inspiring parts of the Canol.
Andy Creek was perfectly situated for an 18-mile day, but the heavier packs and the long days had really started to take its toll on us. Dave's and my feet felt pounded to death and we savored long breaks. Roberta, on the other hand, was doing well. Her pack weight probably increased more than Dave's or mine, so I wasn't sure how she managed to pull that one off. I think she was getting a little irritated at the number and length of breaks the "hiking gods" were taking.
We finally dragged ourselves down to and waded Andy Creek. The crossing was kind of difficult, so it would have been nice to do in boots, but they were far too dry, so we opted for the sandals again. We camped on the flattest ground of the trip next to a ruined caboose. We were able to enjoy a leisurely evening, washing socks and spying Dolly Varden.
The tent is wet with dew…