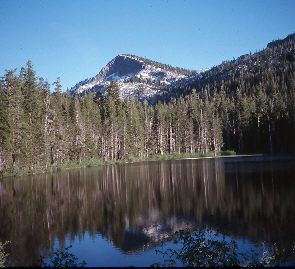 Lake Genevieve
Day 1, June 15, 2000
Meeks Bay to Lake Genevieve
4.5 miles
<Yesterday - Home - Tomorrow>
Our hike began with a long drive from Portland to Lake Tahoe via Sacramento. In Sacramento we stopped by to visit the folks at the Pacific Crest Trail Association headquarters. Joe Sobinovsky and Reuben Rajala were there, but Bob Ballou was in Washington DC. Aside from wanting to see my friends again, I had an ulterior motive. Whenever I call someone, I like to have a mental picture of them in their habitat. I now have that when I talk to Joe, Reuben or Bob.
From Sacramento we headed east to Echo Lake where we dropped off a food cache, which we'd pick up in a couple days. The lake brought back memories of our respective Pacific Crest Trail through hikes, mine in 1981 and Dave's in 1992. I would liked to have been able to simply stash our food with someone working there instead of sending the parcel to ourselves at Echo Lake's post office, because the post office hours were Monday through Saturday, 11:00 to 2:00. Not the kind of a window I like shooting for. We quickly came to the conclusion that stashing it was out of the question, so we sent it all of the five feet it had to travel via the US Postal Service, hoping to land in their postage-stamp-sized window.
We finally reached Lake Tahoe and met Ann Sanford between Carson City and Minden, Nevada. Bob Ballou had contacted Ann who volunteered to drive us to the trailhead. We dropped our car off at Bob and Laurel's house, then drove around the south side of Lake Tahoe to get to Meeks Bay. Ann had been told that there was road construction on the north side, which meant that there must have been road construction projects circling the lake! After wading through the major road construction jam in South Lake Tahoe, we waded through three more stops that warranted turning off the car. After finally getting to Meeks Bay, we heartily thanked Ann for the ride and agreed that she should take the north side home. It could hardly have been worse than the south side.
Finally, we were on the road, literally; the first mile and a half was along a dirt road turned trail. The flat road was nice for shaking out the early bugs and my first stop was to take out my bandana (never without one in my hand) and put on my ankle gaiters. Already crap in my boots! For the rest of the trip Dave would berate himself for forgetting ankle gaiters each time he had to plop down and clean out his boots.
Traditional trail took off from the old road and began the climb up to Phipps Pass. Bright red snow plants* indicated that the snow had recently melted from the area and happy Meeks Creek bubbled nearby. However, we weren't in the backcountry yet. You know that you're not in the backcountry when the people you pass reek of soap and/or perfume and you have to step aside for runners.
Our first camp was at Lake Genevieve. It was getting on past 8:00 and we stood there trying to decide if the mosquitoes that had descended when we crossed Meeks Creek and had not let up much since, would be any less severe at Crag Lake. It was impossible to know and since the campsite and view were good at Lake Genevieve, we parked it there. Decision made, I donned my mosquito head netting. Later, Dave started cursing that he forgot his head netting. It was bad enough to watch him yank off his boots while I was gunk-free, but the prospect of braving the guilt I would feel when I refused to share my head net was almost overwhelming. But then again, with head net rental prices what they are in this neck of the woods...hmmm. No matter. He found his head net later, so I was spared that trauma.
Ahhh, we may not be in the backcountry yet, but we are in the woods. Life is good.