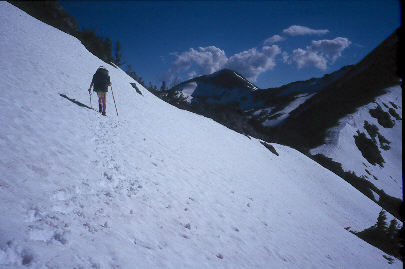 Approaching Dick's Pass*
Day 2, June 16, 2000
Lake Genevieve to Gilmore Lake
14.8 miles
<Yesterday - Home - Tomorrow>
A beautiful day dawned and I once again grasped the reality of starting another long distance hike. Dave and I are well-matched hiking partners. We both have hiked thousands of miles as solo distance hikers, but we also enjoy hiking with people. An aid to satisfying both sides of our hiker persona was the fact Dave wakes up early and breaks camp quickly, whereas I wake up late and break camp like a slug. Thus the first part of the day we hiked solo and the rest we hiked together.
The trail passed by a string of nice lakes en-route to Phipps Pass. Above Rubicon Lake, after an uphill morning, it hit me that we were finally in the backcountry. I caught up with Dave and I guess the backcountry caught him at the same spot. There we enjoyed the open granite affording views of a dramatic ridge between us and Emerald Bay. On the approach to Phipps Pass, we finally got into some snow fields. They weren't enough to use an ice axe, but they portended more to come. The pass afforded a great view of Dick's Peak, Dick's Pass and the sisters' Velma (lakes, that is). Finally, downhill!
The weather was just phenomenal. At Middle Velma Lake, now on the PCT, we ate lunch on a rock spit. The temperature was perfect for a lazy rest in the sun, so I did. Dave chose to laze about in the shade. Whose the smarter one, hmmm? More on that later.
Reluctantly we dragged ourselves away from bliss to focus our efforts on climbing Dick's Pass. Two passes on our first full day! The climb steepened quite a bit and before we knew it, we had lost the trail in snow. A packless reconnoiter found the trail approaching still half-frozen Dick's Lake, but by the time we reached the 8,500' level, we had completely lost the trail in snow. An exhausting traverse across the steep slopes above Dick's Lake warranted the ice axe and many rest stops. Atop Dick's Pass, the sun, the climb, and the shock all combined to make for a quivering stop.
The descent from the pass was a drag. Under normal circumstances this would have been a joyous walk, but with the body being pushed too hard, it all amounted to one ginger step after another and constant adjustment of the pack. We camped at breezy Gilmore Lake (fewer mosquitoes) and hit the sack hard. Laying on top of my sleeping bag, skin on fire, I reconsidered the wisdom of my "rest" at Middle Velma Lake.
<Yesterday - Home - Tomorrow>