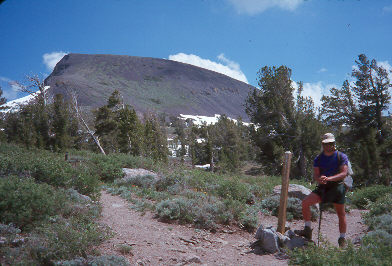 PCT and TYT diverge, Elephant's Back
Day 4, June 18, 2000
Benwood Meadow Creek to Summit City Creek
21.3 miles
<Yesterday - Home - Tomorrow>
I woke up refreshed, yet the prospect of climbing up into more snow tired me. Dave claimed to have left me sticks in the snow to help guide me along Lake Aloha, but I had never seen them. Today he made doubly sure that I would not miss the trail. Make that, triply sure. I swear, he must have spent more of his time planting sticks than he did hiking. Thence, was born Stick Witch, Camper Dave's alter ego; a Blair Witch on smiley pills. It didn't take long to catch up to him
Conveniently, Dave, Aaron and I met up right about the time the snow started getting deep and we often took advantage of our numbers by splitting up to find the trail. By the time we got to Showers Lake, we were pooped. Looking at Aaron's PCT guidebook, we realized that we'd gone five miles along a section of trail the TYT guidebook claimed to be three. The press of keeping a schedule was distracting enough without coming up with two extra miles out of thin air!
Aaron stayed at Showers Lake for a long lunch while Dave and I continued on to Carson Pass. The sun was out in full force as we walked across the Truckee River canyon. At one stream crossing, there wasn't any place to cross without getting my boots wet. After some searching, I found a spot with a rock on the far bank that I thought I might be able to jump to. Then again, maybe I wouldn't be able to make it. It was right on the edge of my ability to leap with a pack, so I decided to go for it. Hey, how will I know my limitations if I don't test the boundaries? I got up the nerve and then the speed. Foot grabs rock, hands grab rock, hands slide off rock, Steve swims. Getting my boots wet would have been a real drag if it weren't for the fact that the dip was so refreshing!
We climbed out of the canyon, then down to Carson Pass where we retreated from the intensity of the sun on the covered porch of a building. Carson Pass is a busy place and we people-watched while we ate lunch. More to the point, we watched people search in vain for the spot where they were supposed to pay the parking fee tickets they found on their windshields. Aaron showed up just about the time we were to leave. The TYT and the PCT were to split in a couple miles and we liked Aaron (even though he needs to learn how to use an ice axe) so we hung out awhile longer. However, push on we did, and we tramped perfect trail from Carson Pass to the trail split. We took the road less traveled, but we didn't appreciate "how" less traveled at the time.
The climb to Winnemucca Lake was enjoyable. Here the snow returned and the climb to Round Top Lake was tiring. The descent to Fourth of July Lake should have been enjoyable, but we were beat. The lake should have represented camp, but we were under pressure to stick to a far too ambitious schedule, so we had to continue down into Summit City Creek canyon.
Dave and I had talked about this since Day 2, but this is where it really hit us that averaging over 18 miles per day through the Sierra is closer to a marathon race than a vacation. Duh, you say. Well, Dave and I love to walk long distances on extended backpacking trips; we've done it for years. In fact, just two years ago, we hiked the Canol Trail in the Northwest Territories, which was arguably more difficult, averaging similar mileage. However, that trip was more of an adventure (it had remote wildness that no place in the Sierra can touch) and enduring that level of difficulty seemed commensurate to the situation. This trip should have been more of a vacation, but I scheduled it to be more of an adventure. Live and learn.
By the time we got to Summit City Creek, we were approaching zombie mode. The trip along the creek probably looked like something out of Night of the Living Dead. The trail was relatively decent considering it was so far back in the Mokelumne Wilderness, thank goodness. As the light began to fade, we knew we had to camp, but it was just about that time that we hit a swamp and all the mosquitoes that go along with it. There's nothing like a swarm of mosquitoes to keep you walking. Lucky us, because we found a rare perfect campsite just a short distance beyond the crap we would have settled for had the mosquitoes been less fierce.
We cooked on an acre of exposed granite next to the creek. There were no mosquitoes anywhere as we laid on our backs, watching the stars, waiting for our food. The sleeping bag felt doubly good this night.
<Yesterday - Home - Tomorrow>