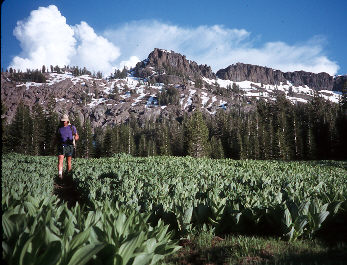 Walking through the corn lilies
Day 6, June 20, 2000
Lake Alpine Lodge to Woods Gulch
17.4 miles
<Yesterday - Home - Tomorrow>
Morning found me in a soft bed. A cozy, warm, soft bed. An I-don't-wanna-leave my soft bed. I dragged out my resupplying chores so as to give Lori's mom enough time to get her results (this wasn't difficult for me since I'm as much of a slug at organizing a resupply as I am getting out of camp in the morning). I was also hoping more than a little that Dave would say he wanted to quit so that I could quit for some external reason. In the end, there were no results and Dave didn't want to quit the trail (bless his heart). Might as well go walking. Good thing we did, because I would have missed the most enjoyable walking of the entire trail.
We walked the 0.7 mile of pavement back to the trail and then to Pine Marten campground. The trail took off along an old dirt road where the walking was easy. We passed a trail junction and commenced downhill. I was caught up in the thoughts that come to you when you're on autopilot, but I had this nagging irritant in the back of my head. Finally I heeded its call. We sat down with the maps, agreed that we should have turned at the trail junction and hauled ourselves back up the hill to right our wrong.
The trail was dreamy. Every day so far had kicked my ass, and I was finally able to enjoy the walk the way I like to enjoy walking. The meandering trail brought us past Rock Lake and across nicely spaced, refreshing streams. The walking was so enjoyable that I couldn't get enough air in my lungs to do justice to how light I felt. Then I fell into the through hiker gait; the gait where all cylinders are clicking and the trail just flies beneath your feet; one of the best feelings on a long distance hike.
But wait, there's a lake; a huge lake; the guidebook doesn't show a lake. I yanked out the wilderness map, worried that we'd missed a trail junction a few miles back. Spicer Meadow Reservoir, a result of damming since the guidebook's publishing date, was blue as could be. As a result, the trail we were now on was completely rebuilt and even better to walk on than before. Through the remains of a recent forest fire below the Dardanelles and around to head of the reservoir, the trail was a joy. We finally started a steady climb up Jenkins Canyon (the guidebook incorrectly places both Jenkins and Slaughter canyons one canyon to the east, so it has you going up Slaughter Canyon instead of Jenkins Canyon), during which we had a refreshing Teva crossing of the main stream.
The climb was steady and I was sweating like a pig, but my body enjoyed it. Our climb rewarded us with a pleasant walk through corn lilies after which we descended swiftly into Woods Gulch. As on all downhill stretches, I left Dave in the dust. I reached a crossing of Woods Gulch at the base of some switchbacks, shortly before Arnot Creek, and threw up my tent just as it was getting difficult to see. Dave caught up and we ate dinner in near pitch black.
Smile.
<Yesterday - Home - Tomorrow>