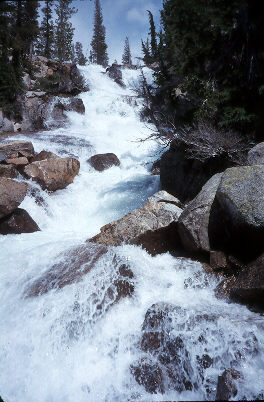 Lake Tilden outlet
Day 9, June 23, 2000
Emigrant Meadow to Kerrick Canyon
20.5 miles
<Yesterday - Home - Tomorrow>
Wonderful night's sleep. This truly is the backcountry. Dave and I got an early start to take advantage of the frozen snow and headed toward Grizzly Peak. We soon met and began following a jeep road coming from Emigrant Pass. Where we weren't walking on snow, the ground was puddled or boggy. Soon, our jeep road turned into two jeep roads; one skirted around the foot of Grizzly Peak while the other one climbed toward its shoulder. We took the high road because the low one looked too wet. We picked our way through snow patches, water-logged trenches and attack bushes until we lost the jeep tracks and had to rely on small cairns.
The objective, Bond Pass, was pretty obvious, but we kept gaining elevation to the point where we climbed higher than the pass itself. Near the 10,000-foot elevation mark, we flushed two bucks and followed them for a half hour. They were great fun to watch as they would disappear, then reappear somewhere else. Looking down in the valley, it was obvious that we made the right decision; a water soaked landscape glittered in the morning sun. Finally we dropped down to the pass at 9,800 feet and entered Yosemite National Park.
I was happy to see a lot less snow on the other side of Bond Pass as the trail left the high reaches of Emigrant Meadow in favor of lower Grace Meadow. We descended from Bond Pass on nice trail and soon reached the junction with the Pacific Crest Trail. Being back on the PCT gave me the warm fuzzies and I kissed the metal logo at the trail junction. Aaron had asked us to leave a note at the junction when we arrived, but that seemed too much like littering, so we passed. I had been looking forward to this moment ever since Summit Creek, getting back to the good old reliable PCT.
Well, the good old reliable PCT was deeply rutted from use and in need of some serious reconstruction, and still under much snow. As the trail descended toward Grace Meadow, snow-free trail became a reality, but it was replaced by trail under water from recent, rapid snowmelt. Oh yeah, and the mosquitoes that go along with boggy conditions were there too. If we were moving, we were fine, but the second we stopped, we were meat. Needless to say, we kept moving.
Grace Meadow is nice, but it didn't give me the grand sense of beauty the guidebook gives it credit for. The canyon is a glacial marvel and Canyon Creek has some magnificent spots, but the meadow itself didn't move me much in the department of aesthetic delight. The miles were falling slowly despite a seemingly quick (and tiring) pace. By the time we reached the junction where the TYT split again from the PCT, we were ready for lunch. The boots and socks came off and the body collapsed against a tree, not to move from that spot for an hour (in spite of the bugs).
After consulting the guidebook, we realized that the TYT and PCT would meet up again in a few miles with the TYT being two or three miles longer than the PCT during that stretch, plus we had a lot more climbing to do on the TYT. Most people would have acknowledged exhaustion and acknowledged the many miles to do in a short period of time and taken the PCT. But nooooo. We're purists and we have to walk every mile of the trail in question. It wasn't even a consideration for either of us. (Yeah, I know, we're pathetic, but tell me something I don't already know.)
We dragged our asses away from our lunch spot (Dave dragged his a lot faster then me). Immediately we encountered a crossing of Canyon Creek and plowed through it with boots on as the water volume made the extra traction important. After a level stretch to tease us, the trail then began a steep ascent to Lake Tilden. The blister on my right heel, which gave me problems every day of the trip, was particularly painful on this ascent. The water logged boots, the duct tape that wouldn't stick and the steep angle made the average butt-kicker climb into the average painful butt-kicker climb. The trail was well-built and afforded a couple really nice spots from which to enjoy Lake Tilden's roaring outlet.
We completed the steep ascent to Lake Tilden only to get blasted by mosquitoes at the top. It was the swarming experience that forces you to breath through a bandana. Arms are constantly moving, swatting the blood-suckers on your face with your bandana (whenever you're not inhaling). We gave the lake little attention, acknowledging its grand beauty on an intellectual level and pressing on. Damn mosquitoes. Speaking of mosquitoes, what have we learned about them? Yes, they like boggy, standing water, which is just what we were in for. As we slogged through swampy environs punctuated with snow banks, we cursed our purity.
We waded through impromptu ponds at the head of Tilden Canyon Creek, at one point in order to avoid a nest of ducklings, thrashed at mosquitoes, and felt every mile of the trip in our bodies. The descent pounded on our already tired bodies and after finally reaching the PCT again, we took stock of our situation. We had six miles to do and it was 6:00. We had two stiff climbs of over 500 feet each with corresponding descents that were even longer. After passing three long distance hikers (too tired to strike up conversation) we started the first climb.
Grind, grind, grind. Puff, puff, puff. After what must have been three or four thousand feet, we topped the ridge and descended the other side. Even as tired as we were, we were able to appreciate the serious trail work it was going to take to remove a tree, four feet in diameter, that had crushed the trail in a most precarious position. I'll pass, thanks. Toward the bottom of the descent, the thunderheads were rumbling (in a distant overture) and we encountered some incredible rockwork on the trail through a riot of the greatest variety of wildflowers* I'd ever seen. As tired as we were, we flew down the trail trying to beat the lightning.
The first of our two late-day obstacles was over. Luckily a tree had fallen across slow moving Stubblefield Canyon Creek and we crossed easily. Well, I crossed easily, Dave crossed deliberately and successfully. A snake lightened our thoughts as we began to tackle our second late-day obstacle. This climb seemed easier as I was getting my second wind. At one point the trail was a streambed adopted by the raging outlet from a lake higher up (I really wish I'd gotten a picture of that). Back and forth, back and forth, back and forth, the top. Ugh.
After I sat down, Dave reminded me of the time and continued on. Hmm, okay, I'll hike in the dark. I did hang out for a few precious minutes, but cut a short break shorter and started flying downhill as fast as my 100-year-old-feeling body could take me. I passed Dave and eventually came to Kerrick Creek where I dropped my pack at a great spot for a camp. I scouted up to where the trail crossed the creek and decided we were at the best spot. On my way back I encountered Dave with pack in tow who had to do an about face back to my pack.
Camp felt as good as camp can feel when your entire body's humming from overexertion. A little gun-shy, we donned our netting despite the fact that the mosquitoes had subsided considerably. We ate in the dark again and were serenaded to sleep by the rushing water of Kerrick Creek.
<Yesterday - Home - Tomorrow>