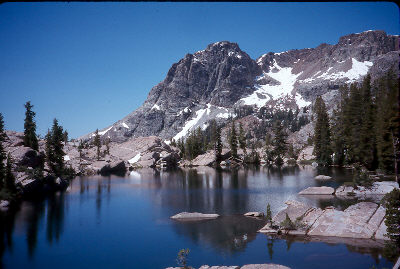 "Perfect Lake"
Day 10, June 24, 2000
Kerrick Canyon to Matterhorn Canyon
17.7 miles
<Yesterday - Home - Tomorrow>
The morning found us quite refreshed; our night spent at Gilmore Lake was no where near as refreshing. I guess nine days has helped improve our ability to recuperate following a hard day's hike. Crossing Kerrick Creek last night would have been impossible because we were so tired and the rushing water would have been able to get a nice grip on my crotch. This morning the water only tickled my thighs.
The steady, enjoyable climb up Kerrick Canyon offered a varied hiking experience visiting the creek as well as climbing into forest above it. We returned to the snow just before crossing over a broad flat saddle to attain the elusive Seavey Pass and were cheered because it was still morning and we'd already completed one of the two major climbs for the day.
On the other side, the trail descended to "Perfect Lake". Well, that's not actually its name. In fact, I don't think it has a name, at least it has no name on any map I've seen. Before I hiked the PCT, I'd read David Green's A Pacific Crest Odyssey and one particular photo of his was seared into my brain. The moment I saw this lake, the photo became reality; I felt as if I'd been physically jolted. This quintessential sierran tarn was the "perfect lake". Thousands of miles later, it continues to be the "perfect lake". I didn't remember the view from the other side of the lake being so spectacular, but it was. Perfect from both sides.
The descent to Piute Creek was moderate to steep and we tackled it gingerly. At one particularly refreshing rest spot crossing a lull in the creek we met a through hiker, the first one we'd been able to confirm and talk to. She was hiking without her fiancée who had dropped off the trail and we exchanged good information. It appeared, she was the beginning of a cluster of through hikers.
The crossing of Piute Creek was nothing like my PCT experience. I remembered boggy conditions and tons of mosquitoes. Now the trail was nice and dry, the creek crossings were simple and there were only a few scattered battalions of mosquitoes lurking about. We skipped the side trip to Benson Lake because I'd already seen it and Dave didn't want to spend the extra time and physical exertion it would require.
The climb back up the other side of the canyon was relentless. We stopped at a wonderful open spot where we could lounge in the shade while a constant breeze kept the bugs at bay. Climb, climb, climb, climb. Then what?! Go downhill!? Urrgh. There's nothing like adding a bunch of downhill to a long climb. We finally made it to Smedberg Lake, scene of the worst mosquito invasion I experienced on my PCT through hike. The mosquitoes weren't bad now, at least the adult ones weren't. However, as soon as we sat down we were swarmed by clouds of baby mosquitoes. We could only achieve relief by constant movement, so we moved on down the trail. On the final ascent to Benson Pass, we passed five through hikers Climb, climb, climb, climb. A few patches of snow to negotiate and finally, Benson Pass. Pass on a stick!!! (Don't ask.)
At 10,139', Benson Pass represented the last time we'd see this kind of elevation. In other words, no more snow! The descent down the other side was surprising painful. The trail was great, but the body wasn't and it seemed to take forever to enter Matterhorn Canyon*. High up in Matterhorn Canyon, the sky was threatening. We flew down to the canyon bottom and set up camp away from the water at an established campsite.
The air was electric, warm and cold at the same time. Everything looked as if viewed through rose colored goggles and the rain dripped on us as if leaking from a dam just itching to explode. Oh yes, and the bugs were vicious. We raced to set up our tents before the deluge, but the dam never did explode. We enjoyed a relaxing, tense dinner and retired to the painful comfort of our sleeping bags.
<Yesterday - Home - Tomorrow>