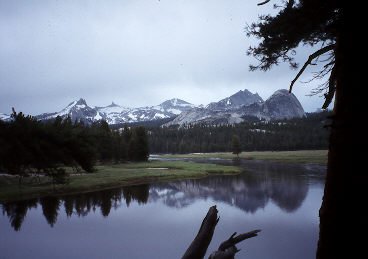 Tuolumne River
Day 11, June 25, 2000
Matterhorn Canyon to Tuolumne Meadows
20.3 miles
<Yesterday - Home - Tomorrow>
Our last day on the trial. We had over twenty miles to do by 6:00, but after only one significant climb in the morning, it would be a cakewalk to Tuolumne Meadows. The rain never did materialize during the night and the day promised to cooperate as well. The crossing of Matterhorn Creek, only a hundred feet from our camp, was unbelievably cold and I had to massage my feet back to life afterward.
A short climb brought us brought us over the shoulder of a ridge and through an old fence. "Wow, that was easy", I said. "We're not done", Dave said. "Oh yes we are", I said. "Oh no we're not", Dave said. Climb, climb, climb, climb, grrr. After some serious switchbacks, we finally made it over the hump and broke out into the meadow at Miller Lake. We rested, content in the knowledge that it was all downhill from here.
I let Dave get plenty far ahead of me so I could enjoy some thinking trail by myself. The trail was great, I couldn't have asked for better, but the body just wouldn't let me forget how hard I'd pushed it for the past ten days. A rapid descent brought me to Spiller Creek and a quick reconnoiter downstream revealed a log, which I easily crossed on. I was thinking that I should have caught up with Dave by this time, but I didn't see him. Down the trail, his boot prints were suspiciously absent. I responded to the nagging in head the way I always respond to uncertainty on the trail. I sat down and broke out the maps. The maps and guidebook didn't tell me anything I didn't already know, but it did give Dave enough time to catch up to me. Apparently he didn't see the log crossing downstream and instead waded across a couple branches of Spiller Creek upstream right by a deer carcass. He was none too pleased when he found out that I'd sailed across with ease.
We quickly made our way to the crossing of Return Creek in Virginia Canyon where we met and chatted with another through hiker sunning herself on a warm boulder of granite. Everyone has a trail name. "Hi, I'm Ephemeral Starflower." "Uhh, hi, I'm Steve." Another easy log crossing and a few hundred feet of trail brought us to McCabe Creek. We probably could have boulder hopped across, but it was kind of iffy and the thought of wading through cold water sounded pretty good. On the other side we met a couple day hikers and another through hiker. The day hikers spent forever desperately looking for a boulder hop whereas the through hiker just took off his boots, plowed through the water in his bare feet and continued walking down the trail in bare feet. He had a trail name too.
After one small climb on fresh feet, we topped the ridge that marked the beginning of a long steady downhill to Glen Aulin camp. The thought of such a long stretch of guaranteed easy trail made me smile. We cruised down Cold Canyon, through mosquito infested meadows and past Lightning Rock. Lunch was just inside the trees where the bug numbers were significantly reduced. We still had many miles to go. Down the trail, we passed a couple hikers with the clean packs and clothes, the unblemished skin and the soapy smell. Dave stopped to talk to them and later told me that they were through hikers. Say, what? "No they aren't", I said. "Yes they are", Dave said. "No way", I said. "Yes way", Dave said. Hmm.
Thunderheads crowded the sky, lightning flashed in the distance, and thunder rumbled through the canyon. The final descent to Glen Aulin camp was as fast as I could hike. At the camp, I walked around and snooped into a large tent where I met and chatted with the cook. Glen Aulin is one of a network of high Sierra camps, modeled after the hut system in the White Mountains of New Hampshire, where tourists can day hike between. At the camps they have lodging and meals, so the hikes between camps can be done sans backpack. They hadn't yet opened for the season, so there wasn't the possibility of mooching some grub.
I knew we had plenty of exposed granite walking to do on the final six miles of our trip, but with the weather turning nasty as it was, I was just crossing my fingers. Crossing the bridge below White Cascade, we climbed through a drippy, steady rain. It was too muggy to put on the Gore-Tex, but the rain was wet. I compromised and put it on over the pack straps, which gave me protection from the rain with as much or as little ventilation as I wanted. We kept a steady pace and crossed the exposed areas as quickly as possible. In the distance, we saw climbers scaling a granite dome. Can you say "fried dumb ass"?
The closer we got to our goal, the harder the rain came down. I guess it just reinforced that the whole trail is an adventure, not just most of it. The Tuolumne River with the high Sierra backdrop was simply breathtaking. The last bit of trial was actually a jeep road (poor PCT signage in this area! Go straight.) and we concluded our hike at a gate below Lembert Dome. Right there was Bob and Laurel Ballou ready to pick us up. We took the final photos of the trip, piled into their SUV and turned toward Tioga Pass.
We dined at a four star restaurant in a gas station (no joke) at the junction of highways 12 and 395 and drove back up to Bob and Laurel's house in Minden, Nevada. Our conversation on the drive back and at their house was lively and fun. Sleeping on an air mattress in an air conditioned room listening to the little noises you hear in little neighborhoods. Thanks Bob and Laurel.
Dave and I drove home the next day wiser for having hiked the Tahoe-Yosemite Trail.
<Yesterday - Home - Tomorrow>