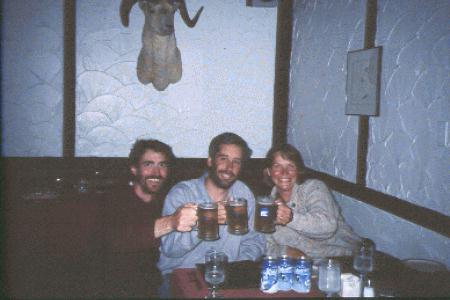 Day 14, August 22
Mackenzie River (MP 5) to Norman Wells (MP 0)
0 Miles
We kind of figured we had made it to the river, but a short walk from the trailer confirmed it. We set up our tents to dry on the sand and waited for Frank Pope to pick us up in his boat. The wind chilled us during the three-plus hours we sat out there. Finally a boat came to pick us up, but it was quite a bit bigger than what we were expecting. It lowered a gangplank and we hopped onto it. As it turns out, these guys were from Esso. They saw our tents and just came out to lend a hand. On the way back to Norman Wells we saw and flagged down Frank and hopped onto his tiny boat since we were his fare after all. I felt like I was part of a prisoner transfer. The ride was more fun on Frank's boat because it was more like a carnival ride. His son gave us a ride back to the Mackenzie Valley Hotel where Dave and Roberta insisted on getting showers before eating. I of course had my priorities straight and headed straight for the diner.
After cleaning up and watching the gardening channel, we visited the Rayuka Inn to toss back those ice-cold Kokanees we had promised ourselves for two weeks. Mmmm, mmmm, good! After extricating ourselves from some overly friendly natives and tossing back a few more ice-cold Kokanees at dinner, we slept a satisfying sleep.
Before our flight out the next day, we visited with Jamie Chambers, his wife, kids and Johnny (see Day 1). They tanked us up with coffee while we relived our hike and talked about other beautiful locales in the Northwest Territories. On our way out, we stopped to talk to Johnny and admire the soapstone carving he was working on (it's his livelihood and he is good at it).
Off on the plane and a return to everyday life…plus some.
Hike the Canol…it's no picnic.