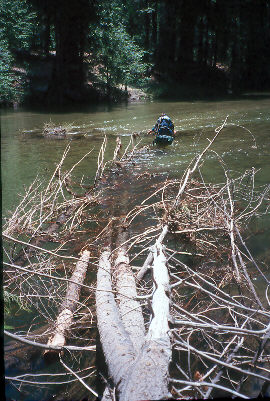 Crossing the Mokelumne River*
Day 5, June 19, 2000
Summit City Creek to Lake Alpine Lodge
14.8 miles
<Yesterday - Home - Tomorrow>
Damn, that truck ran over me again. Damn, what a great campsite; did we get lucky last night, or what? Those where my first two thoughts when I woke up. However, with two crossings of Summit City Creek, one of the Mokelumne River, a 3,500 foot climb, and some possible route-finding problems between here and Alpine Lake Lodge, I didn't spend too much time thinking about them.
Even though the route was sketchy, the rock cairns were plentiful and we managed to keep decent track of the trail in the morning. The trail's first crossing of Summit City Creek was a joke. It was certain that this would not be our crossing, so we bushwhacked downstream until we found something a little more reasonable. On the other side, the trail got a little more difficult to follow and our path plummeted at times.
My muscles were preoccupied with the miles of the previous day, my mind was preoccupied with the growing volume of Summit City Creek and the possibility of an impassable Mokelumne River, and my stomach was preoccupied with the fact that I hadn't eaten anything for breakfast, a bad habit I'd adopted in the interest of getting on the road earlier. At the spot where we guessed we were supposed to cross Summit City Creek, I was pretty much whacked. I dropped to the ground, barely moving, sick. Dave scouted for a spot to cross while I tried to eat something and get my wind. We trudged downstream to another spot where I collapsed again for awhile. Finally, we found a spot we could cross with some confidence. A lot of my strength came back after that crossing, saying something for the influence of psychology and food.
Now route-finding was a joke. We spent as much time looking for the trail as we did hiking on it. It was getting hot and we gratefully stopped in the shade of a large tree at the bank of the Mokelumne River. What the Mokelumne lacked in strength, it made up for in width and depth. Dave stripped to his boots and tried to cross without a pack. Two-thirds the way across he encountered the deep channel and quickly retreated. Upstream didn't look promising, so we scouted downstream. Dave found a couple spots that I rejected because they both involved wading across the channel. I found some downed trees* that crossed the channel and ended in the middle of the river which Dave wasn't sure about. Dave is not a fan of tree crossings, whereas I'll cross most any tree that will hold my weight. Since it was my idea, it was my job to test the route, so I crossed first. Half the tree was submerged and slick and at one point I tested the depth of the channel with my stick and couldn't touch bottom. Luckily there was a bole for each foot and one for my stick, which improved balance.
With the river rushing over my legs, my stick slipped and dropped into the water, saved only by being wedged in place by its bulbous top. The stick was out of my reach. Slowly, I bent at the legs and the waist. Slowly. Right on the edge of tipping over. Slowly. Got it! The further out I got, the more my weight pushed the tree deeper into the water. Finally, I made it to the end of the tree and shallow water. The second half of the river was a joyous crossing, knowing that there wouldn't be any more crossings like these crossings. Dave followed me with a little more caution, but with the same success.
Three hours devoted to three river crossings today. It was mid-afternoon and we still had a 3,500' climb to make under a blazing sun. On top of this, we couldn't find the trail. The guidebook's map had us begin climbing along a feeder creek immediately, whereas the text had us continuing downstream for awhile. We couldn't find any evidence of trail along the feeder creek, so we started downstream. To my horror and Dave's disgust, we found a huge log jam across the river that we could have scampered across. Urgh.
We finally found the unmaintained trail and began to climb. The trail got a lot better after it got out of the canyon bottom and it ate up the climb at a reasonable and steady rate. It even touched the refreshing feeder creek a few times at the beginning. After that, shade became a rare commodity. I still hadn't gotten my wind and the sun was relentless, so the climb wound up being a series of hops from one patch of shade to another. It was difficult to see where the trail was headed, so we gauged our progress by looking at the far side of the canyon. We hit snow again shortly before reaching Mount Reba. Whew! That was one hell of a climb!
We began our descent of Mount Reba's barren south slope and, inexplicably, lost each other. I climbed back to the summit looking for Dave only to find him waaaay down at a saddle. With darkness descending and Lake Alpine four miles away, I threw it into overdrive. My worst fear was that Dave would not be at the junction where the trail took off from the road and I'd have to decide whether he saw the junction and took the trail or continued down the road. He wasn't there. Tracks were difficult to follow, but I kinda thought some may be heading past the junction. Luckily, Dave had stopped a couple hundred feet from that spot to wait for me.
Reunited with the trail, we descended the final three miles to Lake Alpine. Dave's feet were hurting quite a bit and the trail poured stones into his boots. Reaching forest made an increasingly dusky walk even duskier. Finally at Highway 4 we began walking the 0.7 mile away from the trail and toward Lake Alpine Lodge*. Our pace picked up walking through the heavy mosquitoes along a nice lake-hugging bike path and we reached the lodge a few minutes before 8:00p. I had been torturing myself for the previous two hours with the wonderful ways to eat cheese and how I was going to get some lasagna if possible at the restaurant. I was filled with alarm when I found out they closed at 8:00, but luckily the manager was quite nice and understanding. Dave ordered dinner for both of us (no lasagna on the menu, alas) while I scrounged us up a room and retrieved our mail drop. In the bar, the Lakers were playing the Pacers in the NBA championship. I hate the Lakers.
Finally, I was sitting down, eating a fine meal, drinking a fine beer, and looking forward to a fine bed. Every muscle in my body hurt, I was dirty as hell, and both joined forces in an attempt to foil my relaxing dinner. By the end of dinner I was way ready to relax in the room, but my thoughts were consumed trying to reconcile the fact that this was just a shit-load of work on the one hand and the fact that this was a vacation on the other hand. My muscles seized up and I could barely move back to the lodge to call Lori...and things just kept getting better. Lori's mom may have cancer! We'll know more tomorrow. Maybe this was a sign that I need to go home.
Dave and I discussed everything with no firm answers. Play it by ear. Sleep.
<Yesterday - Home - Tomorrow>