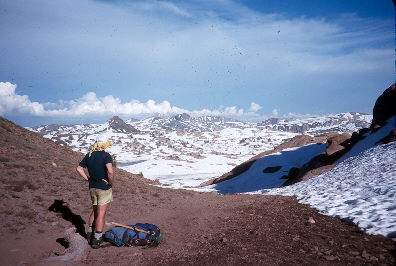 Brown Bear Pass
This site details a backpacking trip on the Tahoe-Yosemite Trail (TYT) by and Dave Cobb from June 15-25, 2000. Photographs on this site are by Steve Queen except for those followed by an asterisk, which are by David Cobb. See some of Dave's post-hike photo interpretations by clicking here. Links to all pictures on this site can be found by clicking here (please respect Dave's and my copyrights).
The TYT is a 185-mile trail between Meeks Bay on the northwestern shore of Lake Tahoe and Tuolumne Meadows in Yosemite National Park. About a third of the trail coincides with the Pacific Crest Trail. We were lucky enough to have a lot of warm weather prior to our departure so the snow pack was reduced considerably. In other words, most people would probably prefer to hike the TYT in July or later.
Journal
Day 1, June 15, Meeks Bay to Lake Genevieve, 4.5 miles
Day 2, June 16, Lake Genevieve to Gilmore Lake, 14.8 miles
Day 3, June 17, Gilmore Lake to Benwood Meadow Creek, 16.7 miles
Day 4, June 18, Benwood Meadow Creek to Summit City Creek 21.3 miles
Day 5, June 19, Summit City Creek to Lake Alpine, 14.8 miles
Day 6, June 20, Lake Alpine to Woods Gulch, 17.4 miles
Day 7, June 21, Woods Gulch to Chipmunk Flat, 21.9 miles
Day 8, June 22, Chipmunk Flat to Emigrant Meadow, 18.1 miles
Day 9, June 23, Emigrant Meadow to Kerrick Canyon, 20.5 miles
Day 10, June 24, Kerrick Canyon to Matterhorn Canyon, 17.7 miles
Day 11, June 25, Matterhorn Canyon to Tuolumne Meadows, 20.3 miles

Resupply Points
Kennedy Meadows Lodge caught fire and burned to the ground early in the morning on October 1, 2007.
Reconstruction has been completed and the lodge, store and restaurant opened on June 30, 2008.
Echo Lake, CA 95721
Lake Alpine Lodge, P.O. Box 5300, Bear Valley, CA 95223
Kennedy Meadows Resort, P.O. Box 4010, Sonora, CA 95370